Please take notice students will not be able to get an early dismissal after 2:00. Please make all appointments accordingly.
Students may enter the building through the front door at 7:30 a.m. Students are not allowed on campus before 7:30 a.m. Any student on campus prior to 7:30 a.m. will be taken to Eagle's Landing before school care and be charged the morning drop-in rate of $15.

All students will report to the cafeteria for breakfast then go to the designated area near their classrooms, sit in the hallway, and read.

The tardy bell will ring at 8:05 a.m. Students who enter the classroom after 8:05 a.m. are considered tardy to class. This policy applies to ALL students with exception of late buses or other extreme circumstances deemed excusable by the administrators.

Pre-K students will enter the building no earlier than 8:00 a.m. Parents will enter the back/bus parking lot no earlier than 7:50 a.m. Prior to 7:50 a.m., this parking lot is used by school buses and daycare vans.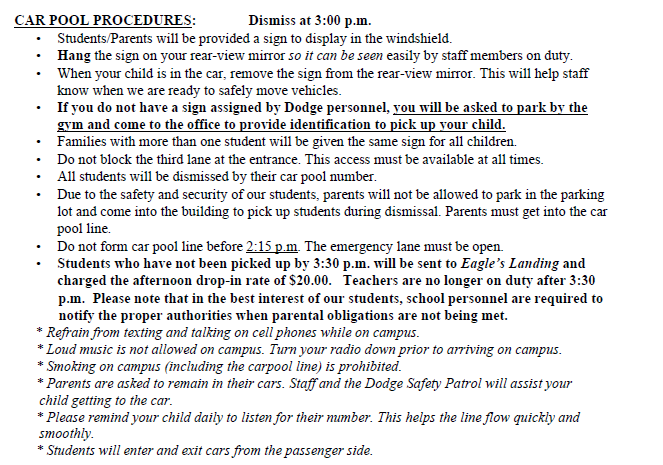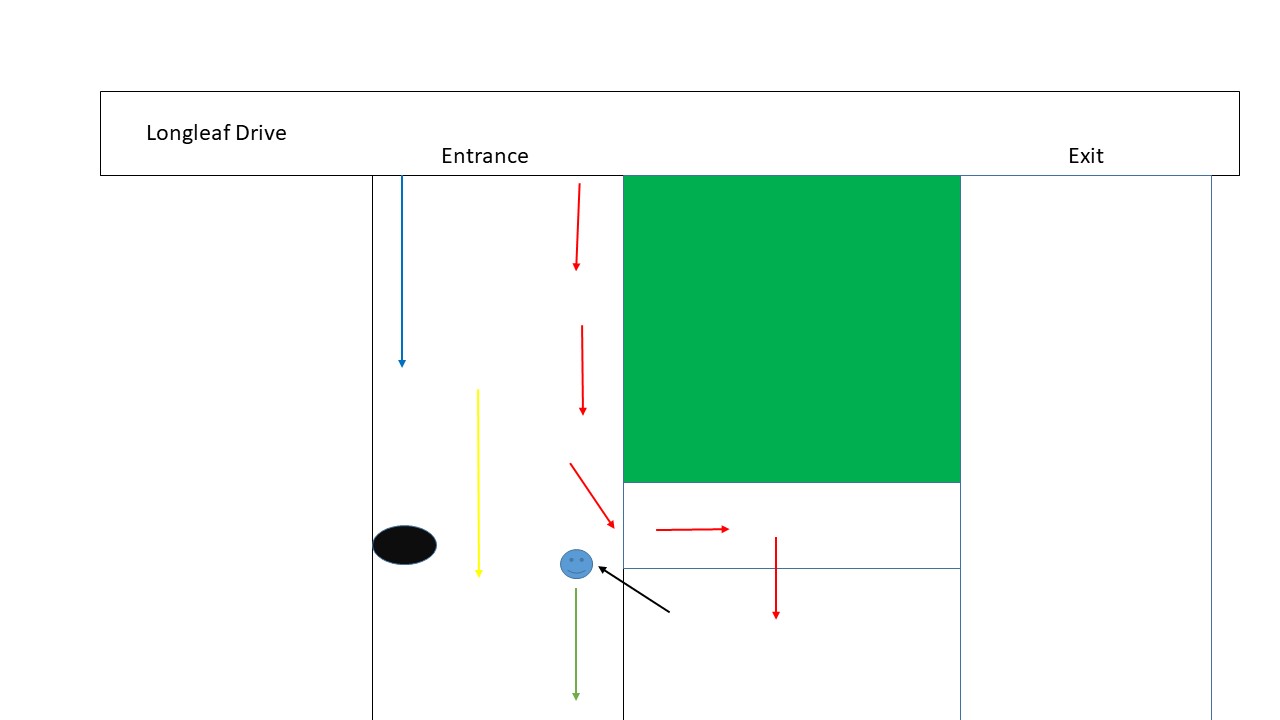 Dismissed at 3:00 p.m.

Walkers must walk up the sidewalk and cross with the crossing guard.

Children may walk to the park, to their house, or to Kingswood church. They may NOT walk to a car parked on a side street.

In case of rain, walkers will need a rain jacket and/or umbrella. If it is a thunderstorm, students will be dismissed through carpool. Please make sure you have a carpool number and the student knows the number.
Dismissed at 3:00 p.m. - must have parker pass

Parents will park by the gym, Laun Park, or Kingswood Methodist Church and walk to the gym to pick up children.

Parents will enter the side gym doors.

If you do not have your parker pass, you will need to go to the office to show your ID.

Parents are welcome to wait inside of the gym starting at 2:50.

Do NOT park in the front parking lot, parents who do this will lose their parker pass and will be assigned a carpool number.

Parents should be parked by 2:50 and ready to get their child at 3:00.
Students are expected to be on their best behavior on the bus. This ensures that all students are safe while traveling to and from school.
This is our before and after school care. The spaces are limited for this program. The sign up will begin on August 10th at meet the teacher.